Contents
The Organization
HOME
PURPOSE
BEGINNINGS
EXP_COMMITTEE
CONTENT USAGE
Today
CURRENT NEWS
SILENT WING MUSEUM
NEWSLETTER
RESEARCH TEAM
REUNION Info
The War
ROLL of HONOR
RAF CASUALTIES
BIO–FILES
PURPLE HEARTS
TRAINING
UNITS
EIGHT MISSIONS
CG-4A
OUR TOW SHIPS
1945-1950
VIDEOS
WINGS OF WAR PODCASTS
OTHER LINKS
Contacts
NWWIIGPA, Inc Busness contact:
Chuck Hobb
nwwiigpa@gmail.com
National Treasurer
NWWII Glider Pilots Assoc., Inc.
Web Site Director -
Patricia Overman
Techincal Editor -
Charles Day
nwwiigpa@gmail.com
--
LBS Research Team



CURRENT NEWS
December 2016
* * *
Association member - Passed away December 25, 2016 Born February 1 1925
Served in the United States Army from June 1943,
Infantry 128 AA Ft Bliss TX, until November 1945

Obituary
John Schumacher was a member of the Glider Pilots Association. He attended our reunions and wore his class A Uniform from WWII John was a member of D Company, 1st Battalion, 194th Glider Infantry Regiment, 17th Airborne. After the 17th Airborne took point in the Ardennes the division was the military component to invade the German Homeland. On 24 March 1945 John, along with his jeep, was flown by the 437th into Landing Zone S. John had the best stories and wore his Class A uniform to our reunions. He attended the 70th anniversary of the Varsity operation in Wesel Germany with the Scions of the 17th Airborne and members of the National WWII GP Assoc. John will be missed.
* * *
---
October 2016
We had a great time last year. Mid America Flight Museum's Sky King. Listen to the sound of Troop Carrier Command
---
August 2016
Col. Harry C. Long, USAF, (Ret).
Final Flight:
AUGUST 13, 2016
FEBURARY 11, 1924 – AUGUST 13, 2016, San Antonio, TX.

Col. Harry C. Long, made his "Final Flight" on August 13, 2016. Col Long was a member of the Glider Pilots Association. He will be missed by the members of the Association but his loss will be felt most deeply by his fellow veterans, his band of brothers. Thanks for the tow, brother.
---
June 2016
* * *
Operation VARSITY Presentation
Bob Swenson and Don Ehr are at it again!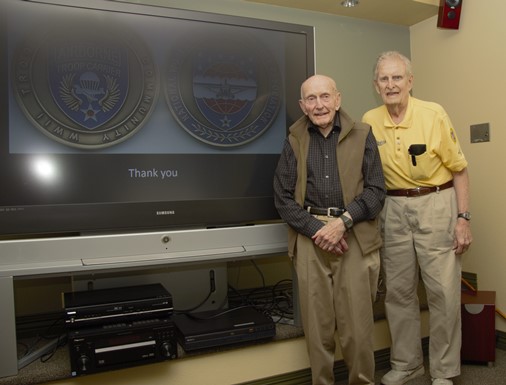 The McChord AFB at Joint Base Ft. Lewis McChord, have invited Bob and Don to present to Team McChord and the Daedalians on June 16, 2016 starting at 1430.
We will post how it goes and hopefully some photos.
* * *
---
May 2016
Orlando Hardin ALLIN Jr.
Final Flight:
May 2nd 2016
May 31, 1922, Seattle,WA. – May 2, 2016, Tumwater,WA.

Bill, as he liked to be called, made his "Final Flight" on May 2, 2016. Bill was a member of the Glider Pilots Association. He will be missed by the members of the Association but his loss will be felt most deeply by his fellow veterans, his band of brothers. Thanks for the tow, brother.

During the War he was a C-47 Command pilot whose piloting skills made him a legend in the Troop Carrier Community. Although he did not fly a glider he towed many and performed the difficult task of snatching gliders out of combat landing zones.

In the summer of 1943, after graduating from advanced flight school, Bill was assigned to the 87th Troop Carrier Squadron (TCS), 438th Troop Carrier Group (TCG) while the Group was stationed Stateside. On February 7, 1944, he flew one of the Groups 52 new C-47s (42-100742) from Baer Field, Ft. Wayne Indiana, as copilot, to the British Isles on the Southern route with many stops in between.

The 438th TCG was chosen to lead the Air Armada for the invasion of Normandy and Bill's Squadron was to lead the Group. Bill was now commander of his own plane, which he named "Drag 'em oot", he very much wanted to be part of that lead into France. However, his ability to snatch gliders from the ground, an aerial skill requiring the ability to fly only 25 feet off the groung in a C-47, earned his plane a snatch cable retrieval system. Just before D-day his plane had been outfitted with this wench and he was told he and his plane would not drop paratroopers, as he had been training for in preparation for the Normandy invasion. Bill was determined to be part of the initial invasion so he talked his best friend, Bill Beach, into letting him be his copilot and in turn Bill Beach promised his copilot he could fly the second day's mission, Elmira, towing gliders to Normandy. Bill Beach and Bill Allin flew wing for the group commander who was flying in "That's all Brother". That was a harrowing experience when he and Bill Beach were shot at by an anti-aircraft gun and its tracer bullets were heading right for the cockpit.

After D-day Bill retrieved gliders from the fields of Normandy three or four times. Then he lost his plane to the lend-lease program and it went to the RAF. He went on to Command two more C-47s and his last plane he named, "Grand Finale" figuring it would be the last plane he would fly during the war.

Bill participated in other major allied airborne operations in mainland Europe. On numerous occasions he retrieved wounded soldiers from battle zones in France, Belgium and into Germany. On December 23, 1944, during the Battle of the Bulge, he and his squadron were the first to deliver, under intense German anti-aircraft and ground fire, the first airborne medical supplies, food and ammunition to the surrounded and beleaguered troops thereby enabling the American forces to withstand the encroaching Nazis until Patton&resquo;s Third Army arrived three days later to lift the siege.

Again, sometime after D-Day, Bill's flying skills were put to the test. His mission was to evacuate wounded from an advance base in France back to England. On the return trip, loaded with wounded soldiers, the weather turned bad and all but one fighter airbase on the coast was socked in. The base was a short and narrow grass-strip lined with RAF Spitfires perched atop the sheer Dover cliffs at the edge of the English Channel. Fighting fierce crosswinds, driving rain, running low on fuel, and refusing to return to France when the wounded needed immediate aid, he lowered the plane onto the slick runway. Quickly approaching the edge of the runway that ended at the cliff drop-off, he jammed the starboard brakes, wheeling the aircraft around, looping the C-47, and applied full-throttle to the two engines to bring the aircraft to rest. The wounded were quickly evacuated to the nearest hospital. Waving aside the incredible flying skills he used to bring his crew and wounded safely down, he joked to his son, Gary, that he almost became an enemy ace that day as several fighter planes stationed at-the-ready along the runway were narrowly avoided.

A few days after the invasion of Germany, Operation Varsity (in which Bill participated in dropping paratroopers of the 17th Airborne), the greatest r esupply and evacuation operation began.Bill and his fellow Pilots found themselves going from flying two to three missions a week to two to three a day. They slept and eat in their planes delivering huge amounts of gasoline in "Jerry Cans" as well as rations and medical equipment to the front line of the fast moving Allied Army. To speed the deliveries the pilots help unload and Bill said he had never been in such great physical shape hauling all those cans of gas. On all flights the routes were near enemy pockets and sometimes in firing range of the German artillery.

During this time the labor camps were discovered and POW camps were being liberated. On April 20th 1945, the 87th supported the 438th Group by picking up French Prisoners of War. The Group picked up 375 extremely weak and emaciated POW from labor camp Nordhausen and delivered them to Le Bourget Air Field. As the French POWs unloaded Bill and his crew watched as the POWs tried to stand and salute while La Marseillaise was played and Charles De Gaul greeted each and every POW. Bill and his entire crew had tears in their eyes from what they were seeing.

He was awarded 4 Air Medals For valor in aerial combat operations against the enemy. Bill also earned the European -African -Middle Eastern Campaign Medal and the WWII Victory Medal.


---
April 2016
---
March 2016
* * *
---

?>
January 2016
---
January 2016
Association member - Passed away January 27, 2016

Forest C. TRUE

Born February 1 1925
Served in the United States Army from June 1943,
Infantry 128 AA Ft Bliss TX, until November 1945

He proudly served our country as an infantryman during World War II with the United States Army. He was inducted in Toledo, Ohio on July 1, 1943 and was honorably discharged with the rank of Private First Class at Camp Atterbury, Indiana on November 18, 1945 with total combat duty overseas of one year, two months and twenty two days.

He fought in battles in Normandy, Northern Europe, Rhineland and Central Europe including the Battle of The Bulge. For his meritorious service he was awarded the EAME Theater Ribbon with four Bronze Stars, the American Theater Ribbon, a good Conduct Ribbon and the World War II Victory Medal. He also was awarded the Combat Infantryman Badge and served with Company G 379 of the 95th Infantry. This group was also known as the Iron Men of Metz. --Sanderson Funeral Home
---
Christmas
P-51
BronzeStar