Contents
The Organization
HOME
PURPOSE
BEGINNINGS
EXP_COMMITTEE
CONTENT USAGE
Today
CURRENT NEWS
SILENT WING MUSEUM
NEWSLETTER
RESEARCH TEAM
REUNION Info
The War
ROLL of HONOR
RAF CASUALTIES
BIO–FILES
PURPLE HEARTS
TRAINING
UNITS
EIGHT MISSIONS
CG-4A
OUR TOW SHIPS
1945-1950
VIDEOS
WINGS OF WAR PODCASTS
OTHER LINKS
Contacts
NWWIIGPA, Inc Busness contact:
Chuck Hobb
nwwiigpa@gmail.com
National Treasurer
NWWII Glider Pilots Assoc., Inc.
Web Site Director -
Patricia Overman
Techincal Editor -
Charles Day
nwwiigpa@gmail.com
--
LBS Research Team



47th ANNUAL REUNION:
Hosted by
Mid America Flight Museum in Mt. Pleasant TX
47th ANNUAL GLIDER PILOTS REUNION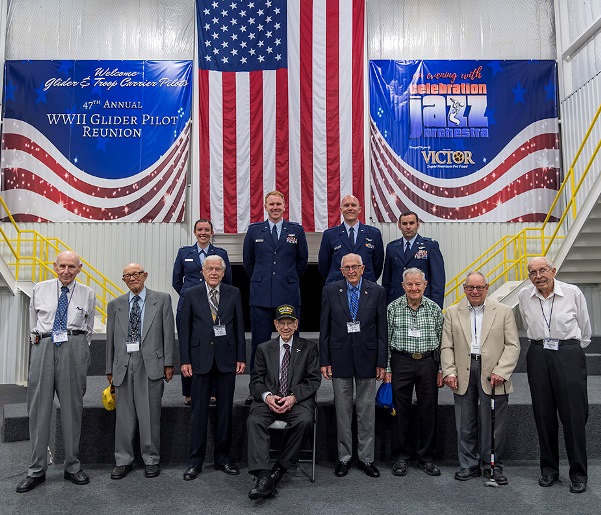 Following a very successful Reunion No.46 in Mt. Pleasant, Texas, Scott Glover, owner of the Mid America Flight Museum, offered to have the 47th Reunion in his newly remodeled hanger facility. Scott and his expert crew offered two full flying days for our members and hosted visitors. The museum has a variety of vintage and war planes, including their showcase warbird named "Skyking", a C-47 that during WWII was in the 53rd Troop Carrier Squadron fleet under the command of pilot Donald King and often copiloted by George Parker. George is one of our members and was in attendance. Another WWII aircraft that attendees had the pleasure of flying on was General Henry H. "Hap" Arnol's aircraft, the only C-51 ever delivered to the Army Air Forces. Other aircrafts were P-51 Mustangs, three bi-wing airplanes including a Stearman. For information on all the airplanes go to Mid America Flight Museum
http://www.historicalairtours.com/
A few of the planes flying and in hangars for viewing:
The Flagship of Mid America
Flight Museums Collection: DC-3 "Sky King"
P-51D Mustang N151MC
B-25 "God & Country"
Grumman J2F Duck
Albatross
C-41
Corsair
General Henry H. Arnold's aircraft, the only C-51

T-6 Texan
T-28 Trojan
Travel Air 6000
L19
1929 Curtiss Robbin
B25
Fairchild 22
Ford Tri-Motor
Stearman
We were honored with the attendance of eight Association veterans. They were:
Warren ARTHUR, 62nd TCS/314th TCG, Ft. Worth, TX;
Bill CHEOLAS, Dual Rated Power Glider Pilot, 86th TCS/437th TCG and 72nd TCS/434th TCG, Melvin MI;
Jean CRAWFORD, Power Pilot,100th TCS/441st TCG, Mayfield KY;
Richard (Dick) T. FORD, Power Pilot, 310th TCS/315th TCG, Portland OR;
John GEIST, Power Pilot, 309 TCS/315 TCG, Satellite Beach FL;
John LAMM, Glider Mechanic, 99th TCS/441st TCG, San Lorenzo CA;
Otto LYONS, Glider Pilot, 15th/35th TCS/61st/315th TCG, Germantown TN;
Gerald PARKER, Power Pilot, 53rd TCS/61st TCG, Sun City West AZ

Missing is William Arthur, Glider Mechanic, 62nd TCS, 314th TCG, Ft Worth TX

Additionally, we had several new members joining us for the first time. Also attending was Neil Jones, our International member from England, who presented his research Thursday evening about D-Day at the Upottery Airfield. Also for the first time we had the pleasure of hosting four officer from the 94th Flying Training Squadron, Air Force Academy, Lt. Colonel Glen Whelen, 94 FTS Director of Operations; Major Charles Kaiser, 94 FTS/ADO, Captain Robert Johnston, 94 FTS/ADP and 2nd Lt. Ashley Torres, a recent graduate on her way to flight school. This is the only squadron in the Department of Defense whose instructor pilots and Officers still hold the military special occupation of Glider Pilot. These instructor pilots carry on the tradition of training pilots to fly gliders and to keep the Army Air Force WWII Glider Pilot heritage alive. To fulfill this goal the Officers made a connection with the veterans and families learning about the history. We on the other hand have learned a great deal about the Air Force's efforts to maintain the glider heritage and we learned about the modern sailplanes and the Air Force Academy program; Lieutenant Torres spoke on Thursday evening regarding the experiences in her junior and senior year as an instructor pilot, training freshmen and sophomores to fly a glider. Her theme was "confidence" and how flying a glider that has only thermals and gravity to control it gave such confidence to her and her fellow students. In January she begins flight training and wants to fly something "fast and pointy". Friday evening's dinner was enjoyed by all followed by a live band and dancing.

The Saturday morning business meeting started out with our traditional Color Guard presenting the Colors and the National Anthem. After the memorial reading by Susan Pinter, Tim Ervin perfectly played Taps and the interesting note on Tim is that he has had a double lung transplant. Amazing!

Finally, during the Saturday morning business meeting, it was determined via a vote of the members present to hold our next reunion, the 48th, in Lubbock, Texas. Scott Glover reassured us that he and his crew would be traveling, with aircraft, to Lubbock. See Otto Lyons' report for the details of the business portion of the meeting. The rest of the day was sent flying and visiting.

On Saturday night Lt. Colonel Glen Whelen was our guest speaker. His message was excellent; in the end he mentioned how the military is thanked for their service and he pointed out how everyone should be thanked for their service in what they do in their jobs.

New this year was a Silent Auction of items donated and fabricated by Dorene Avritt and Susan Pinter. Further, a quilt made by Susan was won by Al Bender. Proceeds of the auction and raffle benefit the Silent Wings Museum Foundation which helps support the Silent Wings Museum.

Lastly, Chuck Hobbs, our association treasurer, and Mary Roemer, reunion chair, shared the S. Tipton Randolph Memorial Award.

-- Mary Roamer, National Reunion Chairman



2017 WWII Glider Pilots-Troop Carrier Groups National Reunion from Mike Skidmore on Vimeo.
REUNION BUSINESS:
EXECUTIVE COUNCIL MEETING
Executive Council and Directors Present: Otto Lyons, Chair; Charles Day, Secretary; Chuck Hobbs, Assistant Treasurer; Mary Roemer, Reunion Chair; Susan Pinter, Chaplin; Patricia Overman, National Wing Commander.
Absent: Hans den Brok, International Director
Vice Chair – Vacant
Ad Hoc Committees – EXPLORITORY COMMITTEE: Don Abbe and Bruce Overman
Visitors present: Sharon McCullar, SW Museum and Gary Stripling, Affiliate member.

Chuck Hobbs, who took over the treasurer's position when George Theis passed away, gave the treasurers report.

Exploratory Committee Report
Member:

| | |
| --- | --- |
| Otto Lyons | (901) 754 7279 |
| Don Abbe | donstoystoo2@gmail.com |
| Charles Day | gliderman.one@frontier.com |
| Bruce Overman | r.bruce.overman@gmail.com |
| Mary Roemer | roemermary@gmail.com |
Just prior to our reunion we received word from the Silent Wing Museum Foundation (SWMF) that they should be able to accommodate a transfer of our organization from its current status as a 503(c)19 (a veterans' organization) to a subcommittee of their 503(c)3 organization.

It appears at this time that our organization may be able to move completely in tack with all its officers and activities virtually unchanged. Naturally, there are still a lot of details to be finalized. The committee recommended to the executive council that we accept SWMF's proposal to accomplish such a transition. The Executive Council voted to approve this recommendation and presented it at the general membership meeting, along with several other changes in bylaw to help facilitate the transition. All proposals were approved by the members present. It looks like we are on our way, stay tuned to the website and Facebook page for updates to the transition.

--Bruce Overman

Don Abbe, who is also a member if the Silent Wings Museum Foundation Board, talked about the foundation's current role. Don handed out the Foundation bylaws and explained what changes would take place.

Several motions were made:

Adding Don Abbe and Bruce Overman as Council Directors.
To move to the foundation structure when the Association dissolves.
Change Chuck Hobb's title, assistant to the Treasurer to read Treasurer
Allow the Vice Chairman position to hold an additional Council position
Move to have Charles Day fill the position of Vice Chairman
All motions were unanimously approved and carried.

New Business: A suggestion was made, in the spirit of our renewed relationship with the USAFA 94th Flying Training Squadron we should consider making the bonds tighter by offering a plaque once a year at the G-Wing Ceremony to be given a deserving cadet. This was discussed and suggested that it be pursued.

GENERAL MEMBERSHIP MEETING
The meeting opened with a color guard whose execution of this honor was superb. Bruce Overman gave an explanation of the move under the Foundation umbrella when the Association dissolves. Otto listed out all the motions from the Executive Council meeting which the assembly approved.

Chuck Hobbs gave the treasury report.

Sharon McCullar gave the Silent Wings Museum report. She mentioned the success of working with the Research Team and gave an example of one of her research projects that came together so successfully.

I want to thank Mary Roemer and Chuck Hobbs for taking over the reunion Chair and treasurer jobs. That was a difficult task for both positions requiring a lot of research to keep the ball moving. The S. Tipton Randolph Memorial Award was well deserved.
--Otto Lyons, Chairman Executive Council

WING COMMANDER'S MEETING
We had 13 of our Wing and Area Commanders attending the reunion! What a great turnout! Thank you all for attending the Wing meeting and your contributions and continuing support.

--Patricia Overman, National Wing Commander
RESEARCH TEAM MEETING
We had a very good turnout of our team members for the reunion. Eleven of our fourteen researchers were at the reunion. Patricia encouraged all researchers to update the bio files with the forms that are working. She will make an effort to get more forms up. We were very busy with research questions from many families during the reunion. This was our first time doing research on the fly and we will need to get a bit more organized as we had more request than we expected, which was wonderful. If we have not gotten back with anyone who requested information, please send an email to nwwiigpa@gmail.com. --Leon B Spencer Research Team
---
---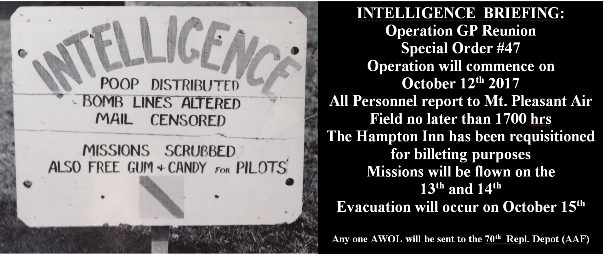 Want to know what our reunions are like? View our previous reunions.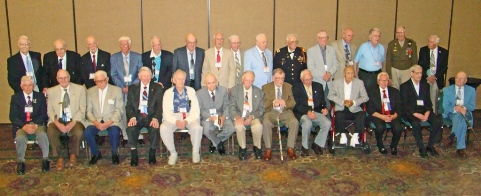 [2013 reunion information]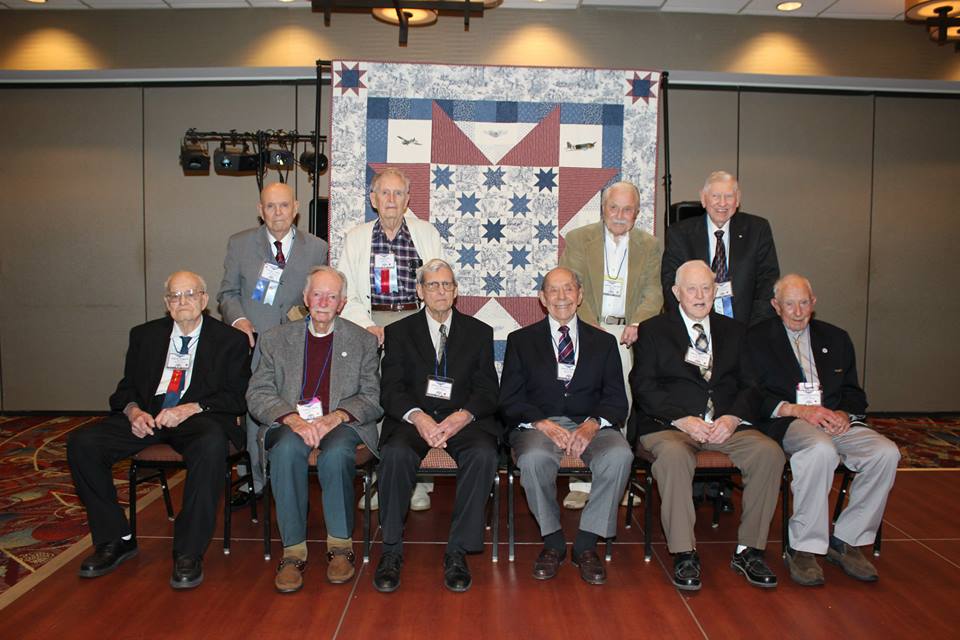 [2014 reunion information]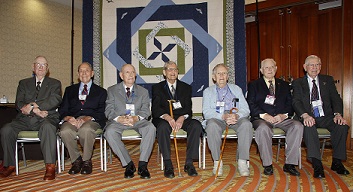 [2015 reunion information]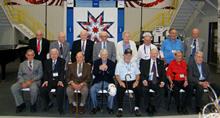 [2016 reunion information]
[2017 reunion information]