44th ANNUAL REUNION:
Held at the Crowne Plaza in Bloomington, MN.
was a great success. Weather played a big part in arranging our schedule. However the weather did gave way to allow Scott's Lodestar and Cowden's P-51 (Pecos Bill) to arrive at the James Airfield on Saturday to give flights to those attending the reunion.
On Thursday night we had three excellent presentations:
John W. McCullough presented on the Normandy area museums and what they each have to offer; Patricia Overman and her cousin from Draguignan, France, Philippe Arakelian presented on the French who celebrate every year their liberation by driving all different Allie WWII vehicles in convoys that parade the liberated towns of Southern France and Chuck Hobbs presented on Holland and the research that he has done.
On Friday evening Philippe Esvelin gave a presentation on Normandy and his Glider Pilot conference and Hans den Brok, whose book titled "Battle of Burp Gun Corner" was released at the reunion, presented The Battle of Burp Gun Corner and a premier showing of the film taken during the Varsity mission by Major Charles Gordan. All proceed of the book will go to the Silent Wings Museum who is currently selling the book.

We had several displays that were excellent and very informative but the most impressive was the display by 9 year old Connor Humen, the great-grandson of glider pilot Robert White.
Our Saturday evening semi-formal Banquet Guest Speaker was Capt. James Johns. Roburta Trexler was honored for attending her 40th consecutive NWWIIGPA reunion. Mike Skidmore received the S.Tipton Randolph Memorial Award for his pictorial documentation of our reunions. Look for his YouTube videos. Congratulations Mike! Every year E. Susan Arnoult Pinter designs and makes a beautiful quilt for our raffle. This year was, as usual, another master piece. The quilt brought $2600 dollars for the Association. The winner of the quilt was Jaymi Schumacher.
The Executive Board made a couple of appointments:
Hans den Brok was appointed the International Director, this was done so that he may contact museums and archives on the Associations behalf.
An official title, National WWII Glider Pilots Association Research Team, was sanctioned for those who are collaborating on research for the Association;
WWII C-47 Pilot and a member, Dick Ford, of the 315th TCG was appointed our Troop Carrier liaison. Dick will be contacting other TCGs to encourage veterans and descendants to join the Association. And E. Susan Arnoult Pinter was appointed our new Chaplin as Otto F. Lyons moved into the National Chairman's position.
A big thank you to Scott Glover and his crew:
Brittany Wildt
Jack Kubit
John Mosley
John and Linda Cortelyou
Frank Glover Jr "Frankie"
Scott owns the Mid America Flight Museum and to Cowden Ward and Jen Charlton who brought in that beautiful P-51 (Pecos Bill). They represent Freedom Flyers
Next September the 45th Reunion will be held in Memphis, Tennessee.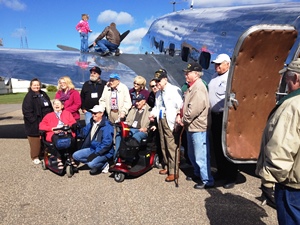 Veterans and families flew on the Lodestar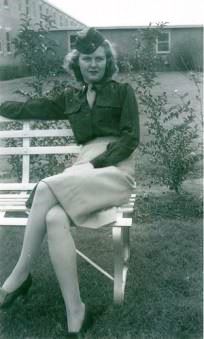 Roburta Trexler was honored at this year's reunion on October 4th. Roburta has been a member of the Association for forty two years and has attended every reunion, many with her late husband David Trexler, during those years. Roburta served in the Medical Corp, Special Services, during WWII. She entered the program in 1944 as a civilian. Living on base, she shared the nurses' quarters, and carried a full schedule in the busy Physical Therapy clinics. In August of 1945 Roburta was transferred from O' Reilly Army Hospital, Springfield, MO to McCloskey Army Hospital, Temple, Texas where she received a commission as 2nd Lt. By the summer of 1946, the war having ended, many hospitals had closed. Roburta spent a few more months at the Army-Navy Hospital in Hot Springs, Ark. before receiving an honorable discharge in August of 1946..